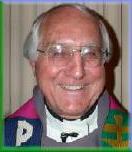 Thomas J. Gumbleton
Auxiliary Bishop of the Archdiocese
of Detroit, Michigan *



Isaiah 56:1, 6-7
Thus says the LORD: Observe what is right, do what is just; for my salvation is about to come, my justice, about to be revealed. The foreigners who join themselves to the LORD, ministering to him, loving the name of the LORD, and becoming his servants-- all who keep the sabbath free from profanation and hold to my covenant, them I will bring to my holy mountain and make joyful in my house of prayer; their burnt offerings and sacrifices will be acceptable on my altar, for my house shall be called a house of prayer for all peoples.

Romans 11:13-15, 29-32
Brothers and sisters: I am speaking to you Gentiles. Inasmuch as I am the apostle to the Gentiles, I glory in my ministry in order to make my race jealous and thus save some of them. For if their rejection is the reconciliation of the world, what will their acceptance be but life from the dead? For the gifts and the call of God are irrevocable. Just as you once disobeyed God but have now received mercy because of their disobedience, so they have now disobeyed in order that, by virtue of the mercy shown to you, they too may now receive mercy. For God delivered all to disobedience, that he might have mercy upon all.

Matthew 15:21-28
At that time, Jesus withdrew to the region of Tyre and Sidon. And behold, a Canaanite woman of that district came and called out, "Have pity on me, Lord, Son of David! My daughter is tormented by a demon." But Jesus did not say a word in answer to her. Jesus' disciples came and asked him, "Send her away, for she keeps calling out after us." He said in reply, "I was sent only to the lost sheep of the house of Israel." But the woman came and did Jesus homage, saying, "Lord, help me." He said in reply, "It is not right to take the food of the children and throw it to the dogs." She said, "Please, Lord, for even the dogs eat the scraps that fall from the table of their masters." Then Jesus said to her in reply, "O woman, great is your faith! Let it be done for you as you wish." And the woman's daughter was healed from that hour.


* A longtime national and international activist in the peace movement, Bishop Gumbleton is a founding member of Pax Christi USA and an outspoken critic of the sanctions against Iraq.
He has appeared on numerous radio and television programs, and has published numerous articles and reports.

* Scripture texts in this work are in modified form from the American Standard Version of the Bible and are available as part of the public domain.

For your convenience, the Scripture texts, as they appear in the Lectionary for Mass for Use in the Dioceses of the United States, second typical edition, Copyright © 1998, 1997, 1970 Confraternity of Christian Doctrine, Washington, D.C., may be found at the website of the United States Conference of Catholic Bishops (USCC).
http://www.usccb.org/nab/

** The Web link to Pax Christi is provided as a service to our readers.

The scriptures today, especially the Gospel lesson, compel us to reflect in a very profound way on what is one of the most important mysteries of our faith -- the mystery of Jesus who is son of God, son of Mary. Jesus is fully divine but also fully human. I think very often our inclination when we hear a passage like today's Gospel is to reflect most of all on Jesus as son of God. "Look, he worked that miracle. The woman's daughter was healed right away! God is active in our midst! Jesus is God!"

I'm convinced that, for our own spiritual growth, it's much more important today to reflect on the humanness of Jesus, that he is truly fully human. One like us in every way.

When you read that lesson or think about it, it must occur to you that Jesus was having a bad day. And it's understandable. Remember the context. We heard just a couple of weeks ago about how he spent that whole day in the desert place with those thousands of people, and they wouldn't leave. They were after him the whole time. Finally the disciples left, and Jesus stayed on to dismiss the crowd. Then he went off into the hillside to pray. He was trying to find some time for seclusion, for quiet, for peace within himself after being almost harassed by the crowd for so many hours.

Early the next morning he started off for the other side of the lake, and the people anticipate that he was going to be there, so they went ahead of him. When he got there, there were several hundreds, even thousands of people demanding his time. Then finally, as we heard last Sunday, he walked across the lake to join the disciples. Today he leaves the whole area. He goes outside the promised land. He goes into a pagan territory and that's when the woman confronted him.

It may be difficult for us to picture Jesus, when someone was pleading with him, "Help me! Help me! Have mercy on me!" and Jesus just turned away. He didn't say a word to her. That is not usually the way we picture Jesus, is it? His disciples complained to him, "Look, she's still shouting at us! Get rid of her!" Then Jesus made that terrible remark, in effect calling her a dog, which was a term that the Jewish people at the time used for those who were not part of the chosen people. But this woman was so extraordinary, she didn't take offense even, but she turned the words of Jesus around in a way that really challenged him. "Look, even the dogs get at least the crumbs from the master's table." With that Jesus, I'm sure, must have broken into a smile and said, "OK, you've outdone me. You've outwitted me." He then proclaimed how deep was her faith and praised her for that faith, and said, "Yes, your daughter is healed."

If we reflect on the humanness of Jesus, I think, it's much easier for us, in a way, to connect with him than if we just think about his divinity. Yes, as God he could heal in a second. He could change everything. But he's also human. So if we're going to gradually become more like him, we're going to have to connect with his humanness and grow and change as he did. That's exactly what happened on that occasion. He changed. He was converted. You may find that almost impossible to believe, but remember Luke said in his Gospel that Jesus grew in age, wisdom and grace. He grew. He developed. He became more profoundly a full human being by growing. And how does he do it? Well, at this moment, it was because he was willing to listen. He was willing to listen! To be open! That had to be very difficult for him. In his humanness he was also a Jew, and the Jews had over the centuries, struggled and struggled to maintain their identity. And it was very difficult. They are far less than one percent of all the people on the planet and so for them to maintain their identity, they had to stick together and reject any kind of intermingling, intermarriage and so on.

Jesus was a Jew out of that culture, out of that time. That is why at first he would not have anything to do with this pagan woman. And besides being a pagan, she was also a Canaanite, the long, long-time enemies of the Jewish people. From the very beginning of their coming into the promised land, the Canaanites were the ones who resisted them, who were always their enemy. Jesus was caught up in that. That's who he was in his humanness. He was fully human like us, and he was a Jewish human being. That's why he responded the way he did.

But then, again, he didn't close himself off. He was willing to interact with the woman, listen to what she said, take it in, and let it change his mind, change his way of being, change his conviction. A tremendous change for Jesus at that moment. It was then that he reached out and praised this woman for her extraordinary faith, because she had worshiped him, "Son of God people claimed him, have mercy on me!"

If we reflect on this incident and especially on the humanness of Jesus and how he reacted, there are all kinds of ways in which we can bring it into our own lives to understand how you and I might have to change -- probably in a lot of ways. We may be able to do it -- to change -- if we are open to one another, open even to our enemies, open to those whom we ordinarily reject and don't have anything to do with.

We can't speak for someone else and determine how someone else will respond to this scripture but I can't help but think about what would happen if President Bush were willing to listen to Cindy Sheehan, the woman who's out there in Crawford, Texas, has been there a couple of weeks now. She is saying, "I'm gonna stay right here. I want to talk to him. I want him to understand what it means for a mother to lose her son in a war that seems to have no purpose. He's got to listen." But so far he won't. Maybe we could pray for him that somehow he would be more open.

What a difference it would make if all of our leaders and our government were open to listening to others. But not only our leaders, if all of us were more open to listening to others. What if over the past few years we had tried to listen much more deeply to the Muslims in the world so many of whom see the West led by the United States as carrying out a crusade against them? Now, we don't feel that that is what we're doing, but if we listened to them, maybe we would understand what they perceive, how they see it, and then we could begin to interact with one another. That's what Jesus did because he was fully human; he was willing to listen and then to let himself be changed.

In the church we face a terrible crisis right now. You know our parish is in danger of being closed by the end of this year. I don't think it's going to happen, so don't worry, but it could. Certainly many parishes are going to be closed. Why? Not for financial reasons. One reason - there are not enough ordained priests. That's the reason we can't have small communities, and yet there are people thinking in the church, women, who are saying, "I have a vocation! I am called by God!" And they have the talent and the training and the ability to minister. Well, we live in the church or part of the church that refuses to be open, to listen, to the women in our midst. How wrong that is! And we build it right into our church law, which could be changed. One of the reasons women aren't listened to is because no woman has any office in the church. The only reason a woman can't have an office in the church, why a woman could not be a cardinal, for example, help to elect the Pope, is because we made laws -- the men in the church made laws -- that make that impossible. The law, the canon law of the church says, "Only an ordained person can hold office." Then we say only men can be ordained, and so only men can hold office. How wrong that is!

We're not listening as a church. Our leadership especially, but maybe some of us even would not be willing to have a woman lead our community. But if we could be more like Jesus we would listen, we would be open to letting ourselves be changed, breaking down some of our prejudices, some of the bias that has been built into us over many years and out of the culture of which we're part. If we could be more like Jesus, we could connect with our humanness, and like Jesus who first turned that woman away but then was willing to listen, we could be converted.

There are many other ways in which we need to listen to one another, to become more of an open, inclusive, welcoming community of disciples, each of us individually but all of us as a community. In our church, one of the reasons we're leaving the city, the archdiocese is closing parishes and schools in the city, is because our church has not been truly open to Black people. We've maintained our own commitment to the Westernized, European kind of culture that's reflected in our liturgy. That's why as you go down Grand River you'll see place after place from Downtown out to Eight Mile Road where there's a Catholic church that's been closed because we haven't welcomed the Black people into our midst. Big Protestant Baptist churches are opening all the way down Grand River. It could be different if we as a church, a long time ago but even now, would give up our prejudices, not think that the only way is a European way, the Western way that we have followed in our religious expressions, our cultural expression of our religious faith. It's not too late to change, and so we still have to change, make sure that at least here in St. Leo's we continue to express our worship in the forms of the culture of the neighborhood in which we live. All of us have to be open to that and try to make that happen.

Another glaring example of how there's not openness, many times on the part of us as individuals but also as a church, is to the gay and lesbian people in our midst. Even in our families, we are brought up culturally to reject them. We have to listen to them, understand their experience and be willing again to change, to be converted.

I'm sure everyone of us, if you take the time now to think about the ways in which I have to try to listen more deeply to others, to other ways of doing things, other ways of thinking, other ways of looking at what's going on in our world, I'm sure everyone of us could think of ways I must be changed and I hope we will do that today as we continue to reflect on these scriptures and reflect on Jesus as one of us, like us in every way -- that we can be more like him in his humanness so that gradually we will take on more of the qualities of his being a divine person in our midst.

If we think about it, pray over it, I'm sure it will happen. And then miracles can happen.

In today's Gospel, the woman's daughter was healed. So many other things could be healed and marvelous changes could take place that would be like miracles if everyone of us tried more consistently and with greater determination to look at Jesus as a fellow human and to imitate him and let ourselves continue to grow in wisdom, age and grace just as he did. Great miracles will happen once we let that happen.

In the name of the father and of the son and of the Holy Spirit. Amen.