"The spirit we have, not the work we do, is what makes us important to the people around us."
A Benedictine Sister of Erie, Joan Chittister is a best-selling author and well-known international lecturer on topics of justice, peace, human rights, women's issues, and contemporary spirituality in the Church and in society. She presently serves as the co-chair of the Global Peace Initiative of Women, a partner organization of the United Nations, facilitating a worldwide network of women peace builders, especially in the Middle East. A speech communications theorist, Sister Joan's most recent books include The Way We Were (Orbis) and Called to Question (Sheed & Ward), a First Place CPA 2005 award winner. She is founder and executive director of Benetvision, a resource and research center for contemporary spirituality in Erie.

By Joan Chittister, OSB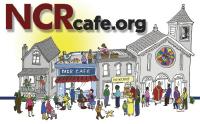 Join the Conversation
If you haven't yet visited NCRcafe.org, the new interactive and participatory Web site, you've missed out on vibrant discussions about the issues Sr. Joan Chittister addresses in his columns. It's time you checked it out: NCRcafe.org
In the next few weeks, the traditional format that you see on this page will be replaced with the new site.
Sr. Joan Chittister is traveling in the Middle East Nov. 8-15 and has asked for prayers. She is traveling as co-chair of the Global Peace Initiative of Women, an organization sponsored by the United Nations.
Chittister and other memembers of the Global Peace Initiative of Women are to attend a dialogue in Beirut, Lebenon, among religious leaders in the Middle East and Asia aimed at revitalizing their individual spiritual traditions in an effort to build understanding, mutual respect and greater inter-religious cooperation.
Her group will also meet with religious and government officials in Damascus, Syria, at the invitation of the Syrian ambassador to the United States.
Becasue of these commitments, Chittister may not be able to send a column during this period, although before leaving, she said she would try to write.
---
---
Copyright © 2006 The National Catholic Reporter Publishing Company, 115 E. Armour Blvd., Kansas City, MO 64111 All rights reserved. TEL: 1-816-531-0538 FAX: 1-816-968-2280