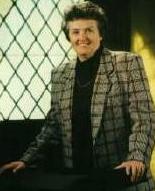 "The spirit we have, not the work we do, is what makes us important to the people around us."



A Benedictine Sister of Erie, Sister Joan is a best-selling author and well-known international lecturer. She is founder and executive director of Benetvision: A Resource and Research Center for Contemporary Spirituality, and past president of the Conference of American Benedictine Prioresses and the Leadership Conference of Women Religious. Sister Joan has been recognized by universities and national organizations for her work for justice, peace and equality for women in the Church and society. She is an active member of the International Peace Council.


* The Web link to Benedictine Sisters of Erie, PA, is provided as a service to our readers.
Why go to church if you don't do what the pope says?
By Joan Chittister,OSB
Why go to church if you don't do what the pope says?
2003 Friends of NCR Annual Appeal
(October 2003-December 2003)
Dear Reader of From Where I Stand,
We need your help. We are pleased to make available -- at no charge -- From Where I Stand. But we cannot do all we need to do without your financial assistance.
Please take a moment to consider contributing to our annual appeal and join the ranks of readers who give to the Friends of NCR campaign. National Catholic Reporter is a nonprofit organization. Contributions are tax-deductible in the United States.

Let's build the future together.

Contributions may be sent to:

National Catholic Reporter
115 E. Armour Blvd.
Kansas City, MO 64111
USA

Make checks out to: NCR
If you wish, you may print a form for submitting your donation.
You may also use this form for credit card donations.

P.S. Everyone who donates will receive the fourth in a series of specially designed NCR Christmas ornaments connecting us in a special way to the gospel of peace on earth. Thank you.

"There lives more faith in honest doubt, believe me" Alfred Tennyson wrote, "than in half the creeds." To doubt, in other words, is of the essence of faith. But if that's the case, are you or are you not Catholic when you're in doubt?

People in the media, for instance, have a capacity for asking the right questions. They have an instinct, it seems, for pursuing the issues that most of us wonder about but few of us have either the opportunity or the gall to ask for ourselves. Like, "How is that people can revere a pope but not follow him?"

The question about papal politics and its moral relevance is -- at this moment of evaluation of a very long and very effective papacy -- a particularly constant one. Reporters, for instance, ask constantly now how it is that Catholics continue to show respect, even reverence, for the pope but do not follow his mandates. One poll of U.S. Catholics found that though almost 90% of Catholics admire the pope personally, 83% of them disagree with his positions on birth control, married priests, and the ordination of women.

In European cities, at the very heart of old Christendom, the annual baptism rate itself is barely 5% and those who are baptized are almost never weekly churchgoers. For the first time in history, for example, only 42% of the Irish go to mass on Sunday.

And yet, more than 250,000 people, representatives of groups from all over the world, showed up in the piazza of St. Peter's Basilica to mark the 25th anniversary of the papacy of John Paul II. They all call themselves Catholic. They also all believe different things now. So, how is it possible to belong to a church whose beliefs you dismiss?

In the United States, the U.S. Conference of Bishops contemplates the publication of a "Voter's Guide" that asks people to consider the positions of a candidate on things like abortion and Iraq -- a good idea, I think, to make a relationship between civil leadership and moral issues -- but clearly no guarantee that either issue will really define the so-called "Catholic" vote. The fact is that almost half of U.S. Catholics, like their Protestant brothers and sisters, accept abortion, at least under certain conditions, and over half of them seem to think that the invasion of Iraq made moral sense -- with or without the justification of imminent danger to the United States itself.

Clearly there is a deep and enlarging fissure between officially defined church positions on moral issues and the moral consensus of the Catholic community. But, in the United States, at least, people continue to go to Mass. Is such a rupture between ritual and belief a sign of religious schizophrenia or an indication of religious development?

Some people disparage this phenomenon of the rupture between belief and ritual. They even demean the people involved in it by calling them "cafeteria Catholics."

Some people consider the whole situation hypocritical. At very least, they label it an unthinking response to a deeply intellectual conflict. Maybe more social than spiritual, as in people-go-to-church-because-church-affiliation-looks-good-on-a-resume.

I don't think so.

Social psychologists have known for a very long time that belief and ritual are not the same thing. Now, sociologists have begun to study the separate function and nature of both. The conclusion is that ritual and belief are two distinct sides of faith. We are prone to think that one reflects the other. Surprise. There is, thanks to a new line of social research, more than enough reason now to think that they do not.

For two years, Daniel Lee, assistant professor of Sociology at Penn State Dubois, studied the role faith plays in the lives of an Old Order Mennonite congregation in New York state. Lee's conclusion provides a whole new filter by which to view what's happening in religion everywhere at this crossover moment in time. He concludes that rituals, not shared beliefs, hold religious communities together. Lee cites as partial proof of the binding role of ritual the fact that many Old Order Mennonites could not explain certain of their basic actions and rituals, other than as manifestations of obedience or tradition.

I can sympathize with the thesis: In pre-Vatican II religious life, we broke the piece of bread we ate at mealtimes into three pieces (in regard for the Holy Trinity, we were told) and put the longest piece under our knives. It was, we thought, a sacred act. I learned in Europe 30 years later that the custom was a cultural one. Peasant families used bread to keep their knives off a dirty table. The upper class used silver knife holders!

Symbols, pins, clothes, group gestures, language all define a group. They remind us that we are not alone in this world. They mark us with the prestige or power of the groups with which we identify. They make us part of something greater than ourselves.

"The idea that any group can create a collective consciousness in which everyone thinks the same is not possible," The Penn Stater magazine quotes Lee as saying. "Instead, religious solidarity comes from rituals because they help people identify themselves as part of a group."

In this period of changing ideas, of adjustment to a deluge of new information, of a sea change in religious perceptions, people say, "I still go to church but I don't know why." Maybe we need to consider that it may simply be enough to be part of a church in pilgrimage during a time of change. Ritual itself, it seems, can hold us together when our beliefs are in a process of growth.

From where I stand, it seems to me that social science challenges us now to determine the character of our own present commitment. Are we where we are because we really believe what we're told we must believe, or do we stay in the church in a time of turmoil because belonging alone seems to be enough in a time of search. It seems that either is a legitimate dimension of faith.

It may not hurt for all of us to understand, at this moment of change, that both ritual and belief are distinct but real, separate and necessary stages of the development of the faith. "Cafeteria Catholics," take hope.

But there may be an omen, a foghorn, a siren embedded in the data, as well. If rituals hold us together while new ideas and new understandings evolve, those parishes, those churches, that fail to make their rituals relevant, meaningful, and alive stand in double jeopardy of being ignored. If the rituals we use do not speak to the world we're in, the world may well seek other groups to which to belong. Liturgy commissions, take heed.

And finally, Lee's research leaves unanswered one very important question: What happens to women whose belief is real but for whom it is the all-male rituals themselves that alienate? What, if any glue is left to bind them, too, to a church in change? Patriarchy, take warning.