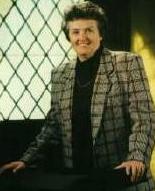 "The spirit we have, not the work we do, is what makes us important to the people around us."



A Benedictine Sister of Erie, Sister Joan is a best-selling author and well-known international lecturer. She is founder and executive director of Benetvision: A Resource and Research Center for Contemporary Spirituality, and past president of the Conference of American Benedictine Prioresses and the Leadership Conference of Women Religious. Sister Joan has been recognized by universities and national organizations for her work for justice, peace and equality for women in the Church and society. She is an active member of the International Peace Council.


* The Web link to Benedictine Sisters of Erie, PA, is provided as a service to our readers.
An American Catholic in Rome
Benedictine Sr. Joan Chittister is in Rome for NCR. She will be sharing observations and thoughts about this transition time in the church through articles posted to NCRonline.org. Her first piece appears today, April 7. Check the Web site for daily updates.
Joan's articles, titled An American Catholic in Rome, can be found here: Chittister in Rome.
NCR's coverage of the events in Rome can be found here: The church in transition.