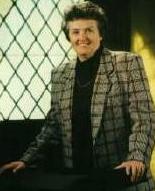 "The spirit we have, not the work we do, is what makes us important to the people around us."
A Benedictine Sister of Erie, Joan Chittister is a best-selling author and well-known international lecturer on topics of justice, peace, human rights, women's issues, and contemporary spirituality in the Church and in society. She presently serves as the co-chair of the Global Peace Initiative of Women, a partner organization of the United Nations, facilitating a worldwide network of women peace builders, especially in the Middle East. A speech communications theorist, Sister Joan's most recent books include The Way We Were (Orbis) and Called to Question (Sheed & Ward), a First Place CPA 2005 award winner. She is founder and executive director of Benetvision, a resource and research center for contemporary spirituality in Erie.
* The Web link to Benedictine Sisters of Erie, PA, is provided as a service to our readers.
The great T-shirt brigade

Dear Reader of From Where I Stand,

We need your help. We are pleased to make available -- at no charge -- From Where I Stand. But we cannot do all we need to do without your financial assistance.

Please take a moment to consider contributing to our annual appeal and join the ranks of readers who give to the Friends of NCR campaign. National Catholic Reporter is a nonprofit organization. Contributions are tax-deductible in the United States.


Contributions may be sent to:
National Catholic Reporter
115 E. Armour Blvd.
Kansas City, MO 64111
USA

Make checks out to: NCR

If you wish, you may print a form for submitting your donation.
You may also use this form for credit card donations.

OR


P.S.: Everyone who donates will receive the fourth in a series of specially designed NCR Christmas ornaments connecting us in a special way to the gospel of peace on earth. Thank you.

By Joan Chittister, OSB

One thing we know today: the United States is free from offensive T-shirts. One thing we do not know is whether or to what degree the United States is still free.

Two women, neither of them resisting, were put out of the House Chamber of the U.S. Congress for wearing T-shirts during the president's Tuesday night State of the Union address. One T-shirt clearly questioned the war in Iraq; the other T-shirt called on U.S. citizens to support the troops. One woman was the guest of a congresswoman. The other woman was the wife of a congressman. One woman they arrested before the event even started; the other one they simply put out of the chamber during the talk.

But they may have arrested the wrong woman.

The first woman admitted that she was opposed to the war. Terrorists hardly ever stand up in public and admit that they are terrorists, we're told, which is why, our government insists, we have to be willing to cut some democratic corners now to ferret them out by the most unorthodox and constitutionally questionable means. It's clear, therefore, that the second T-shirt, the one that said "support the troops" is the problematic one.

After all, a person can support the troops and still be opposed to the war. So, trying to sort out whether T-shirt number 2 is presidential or subversive will probably require some strategic phone tapping by the National Security Agency.

Fortunately, the president will not need a warrant to do that so we can surely jump on these people, guns blazing, before they have a chance to get beyond the D.C. beltway. We all know that it's out beyond the beltway that T-shirt terrorists lurk.

U.S. Capitol Police Chief Terrance Gainer, CNN reports, apologized on Wednesday afternoon for Tuesday night's incidents. "We made a mistake," he said.

Try to imagine how this story will be read around the world. And you can be sure that it will be.

The world already knows that the government is not too quick at hurricanes. After all, however much people worry that there is a conspiracy among the media gatekeepers to make sure that negative news about the United States is quashed and the country is made to look good in public -- at least in the country itself -- there are always hurricanes to right the discussion. Hurricane Katrina reminded the rest of the globe that the U.S. is not invincible and that its own people may be the ones most in danger from it.

The world knows, too, that we're not too good at making or reading intelligence reports. We invaded an entire country, remember, on intelligence speculation that was 10 years old. As in Iraq "might" have weapons of mass destruction and Iraq "may" be buying yellow cake uranium from African nations and Iraq "could" be a center for the terrorists who took down the World Trade Center with commercial airplanes, not nuclear weapons.

Have you missed a column?
Click on the archive link at the top of this page to read past columns by Sr. Joan Chittister.

But now, at least, the world will know that we are really good at catching mothers of the war dead who want to spend money on peace academies as well as on bombs, and wives of congressmen who support the war but wear ambiguous T-shirts. They will know, too, that we are good at evicting the wives of Republican congressmen but arresting peace activists who are guests of Democratic congresswomen.

Worst of all, they will probably figure out that it's the same old problem: The Capitol officers in question, the Capitol police chief told the press, were "operating under outdated guidance on House rules."

So we seem to be dealing with some important questions in this country.

First, how much longer will the capital of the United States go on operating on old information? The first mistake has cost us 2,245 dead and 16,000 wounded so far. The second one is about to cost us a lawsuit for defamation of character and infringement of civil rights -- not to mention the snickering and ridicule of the rest of the world.

Secondly, are T-shirts becoming seditious? Will we soon be parading them through the courts of the country in order to test the degree to which they are protected by the First Amendment? Is there now somewhere a secret dress code for patriotism which, if we violate it, makes us all liable for outsourcing to a foreign prison someplace till we learn to mind our political manners?

And if it's T-shirts under this administration, will it be tiny little baby-feet lapel pins in the next? Or peace signs, maybe? Or crosses eventually?

E-mail Alerts
To receive an e-mail notice when "From Where Is Stand" by Joan Chittister is posted every week, sign up here for e-mail alerts.
Click on the link at the top right of this page to send the column to a friend or colleague.

Finally, someone ought to wonder, perhaps, if a pro-war Republican's wife had not been one of the T-shirt wearers -- the ambiguous one, incidentally -- would the other woman still be in jail?

From where I stand, this situation manages to demonstrate both the ridiculous and the dangerous at the same time. The whole situation may seem funny to some now but it was dead serious to the Capitol police when it happened. And there are bruises to prove it.
---