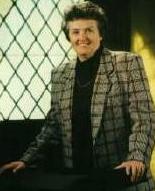 "The spirit we have, not the work we do, is what makes us important to the people around us."
A Benedictine Sister of Erie, Joan Chittister is a best-selling author and well-known international lecturer on topics of justice, peace, human rights, women's issues, and contemporary spirituality in the Church and in society. She presently serves as the co-chair of the Global Peace Initiative of Women, a partner organization of the United Nations, facilitating a worldwide network of women peace builders, especially in the Middle East. A speech communications theorist, Sister Joan's most recent books include The Way We Were (Orbis) and Called to Question (Sheed & Ward), a First Place CPA 2005 award winner. She is founder and executive director of Benetvision, a resource and research center for contemporary spirituality in Erie.
* The Web link to Benedictine Sisters of Erie, PA, is provided as a service to our readers.
Political institutions vs. ecclesial institutions:
Is there any difference between them?

Dear Reader of From Where I Stand,

We need your help. We are pleased to make available -- at no charge -- From Where I Stand. But we cannot do all we need to do without your financial assistance.

Please take a moment to consider contributing to our annual appeal and join the ranks of readers who give to the Friends of NCR campaign. National Catholic Reporter is a nonprofit organization. Contributions are tax-deductible in the United States.


Contributions may be sent to:
National Catholic Reporter
115 E. Armour Blvd.
Kansas City, MO 64111
USA

Make checks out to: NCR

If you wish, you may print a form for submitting your donation.
You may also use this form for credit card donations.

OR


P.S.: Everyone who donates will receive the fourth in a series of specially designed NCR Christmas ornaments connecting us in a special way to the gospel of peace on earth. Thank you.

By Joan Chittister, OSB

It is the truth-tellers of every generation -- in every institution -- who save it from its folly. Unfortunately, too often they suffer for the doing of it all the rest of their lives. Aristotle warned us centuries ago that it would not be easy: "The high-minded," he said, "must care more for the truth than for what people think."

As the years go by, we get around to praising such people for what they've done, of course, but we are far more inclined to persecute them while they live.

Fortunately for us, people who put values, truth, and integrity above personal security and public approval to expose systemic corruption seem to abound in our times. But whatever their immortal glory, however important history shows them to be to the preservation of some of our most cherished institutions, their whistle blowing is done too often to their peril. Daniel Ellsberg, whose release of the Pentagon Papers exposed the deceptions underlying the Vietnam War, was hunted down and harassed for years. Felony charges against him were finally dismissed in the light of the Nixon administration's Watergate scandal.

Christoph Meili, the Swiss bank guard who exposed the role of the Swiss banking industry in the destruction of the banking records of Holocaust victims, is still living in exile.

Bunnatine Greenhouse, contract overseer of the Army Corps of Engineers who revealed the illegal awarding of a multibillion dollar no-bid government contract to Halliburton in Iraq, was demoted.

Ambassador Joseph Wilson told the truth about the paucity of intelligence and downright distortion of data that sent the U.S. military into Iraq at the risk of their own lives and at the jeopardy of thousands of innocent civilians there.

Instead of being grateful that somewhere in the system there were still people willing to raise another point of view about discussable issues that had been insufficiently discussed or non-discussable issues that cried out for discussion, recrimination became the name of the game. The outing of Wilson's wife, Valerie Plame, as a covert CIA agent destroyed her career and left his own political future in total disarray.

In the latest of these government fiascos, some as yet unnamed whistle-blower has leaked the existence of a top secret program unleashed to spy on U.S. citizens themselves. The National Security Agency, under orders from the President himself, has ignored, stretched or skirted legislation intended to protect the people of this country from government harassment, spying and illegal search and seizure -- one of government's oldest weapons of mass intimidation of its own people.

This time, we are promised, the person or persons who leaked this information will be hunted down and prosecuted.

Have you missed a column?
Click on the archive link at the top of this page to read past columns by Sr. Joan Chittister.

If you don't listen to the story slowly and carefully, you might be fooled into thinking that the person who revealed the information that the laws of the land were being broken was the real lawbreaker in this case. He or she could go to jail, it seems, for leaking the classified information that those who are supposed to be maintaining the laws of this country are breaking them.

What distorted logic. The inanity of purporting to preserve democracy through undemocratic tactics -- it's beginning to sound a little like something out of "Animal House."

Clearly, governments, including democratic governments, have not been doing too well at either democracy or transparency. Clearly, they are doing even worse in their handling of people who dare to tell the world what the government does not want them to hear. Even more clearly than that, we all needed desperately to hear what they had to say for the sake of our own lives.

So what is going on? Easy. It is simply an attempt by the people in power to stay in power.

But now we are at an even more telling moment in this dangerous juncture of personal conscience and institutional convenience.

This time the truth-telling has to do with the church.

This time we have a bishop, Thomas Gumbleton, auxiliary bishop of Detroit, who has broken the episcopal seal of unity by daring to speak out against the attempt of the Conference of Catholic Bishops of Ohio to obstruct legislation that would extend the statute of limitations on cases of child sex-abuse and open a one-year window for victims to file law suits even if the abuse took place decades before. (See NCR Jan. 11.)

The bishops of Ohio are opposed such legislation because, they say, it would hold the patrimony of the church hostage to the claims of child victims of sexual abuse by priests. The claim seems tantamount to arguing that the assets of an industry should not be made liable for claims of damage against it either because the claims weren't made known till the damage was apparent or because it would affect stockholders who had nothing to do with the actions or because the number of those not damaged exceeds the number of those who are. It's a question worth discussing. And if the priests and bishops don't do it publicly, the people certainly will.

E-mail Alerts
To receive an e-mail notice when "From Where Is Stand" by Joan Chittister is posted every week, sign up here for e-mail alerts.
Click on the link at the top right of this page to send the column to a friend or colleague.

The stakes are high for the church in this one -- financially, morally and pastorally.

From where I stand, it seems to me that Bishop Gumbleton's lone voice against the pastoral practice of the emotional neglect of the abused as well as the apparent disregard for financial compensation for them may be crucial to saving both the integrity of the church as well as the faith of the victims.

The other issue, the unspoken issue now, is only whether or not an ecclesial institution will deal any better with its truth-tellers than do the political institutions from which we have already learned to expect so little. After all, "A man should never be ashamed to own he has been in the wrong," Pope wrote, "which is but saying, in other words, that he is wiser today than he was yesterday." Let's see. . . . Let's hope.
---